SmashClaw -
Sherman and Spinner Cortez
's Buster and
Agura Ibaden
's Tangler fusion; has six of the
Tangler ATV
's wheels and the
Buster Tank
's armor. SmashClaw can do things like extend its forward section off the ground and use its foremost wheels as arms with spinning blades emerging from the wheels. First appears in Episode 30.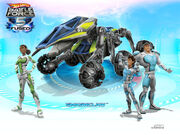 Ad blocker interference detected!
Wikia is a free-to-use site that makes money from advertising. We have a modified experience for viewers using ad blockers

Wikia is not accessible if you've made further modifications. Remove the custom ad blocker rule(s) and the page will load as expected.